Plant Disease Diagnostics Clinic Mission
The University of Wisconsin-Madison/Extension Plant Disease Diagnostics Clinic (PDDC) provides assistance in identifying plant diseases and provides educational information on plant diseases and their control.
PDDC clients include agricultural and horticultural producers (e.g., farmers, nursery owners), agricultural and horticultural professionals (e.g., crop consultants, arborists), home gardeners, Extension staff and Master Gardener volunteers, and state and local government (e.g., Wisconsin DNR, city and county foresters).
While the Plant Disease Diagnostics Clinic focuses on plant disease problems in the state of Wisconsin, any interested party is welcome and encouraged to take advantage of and participate in the Clinic's educational services and activities.
If after exploring this website, you have questions about PDDC services feel free to contact the clinic at 608-262-2863 or bdh@plantpath.wisc.edu.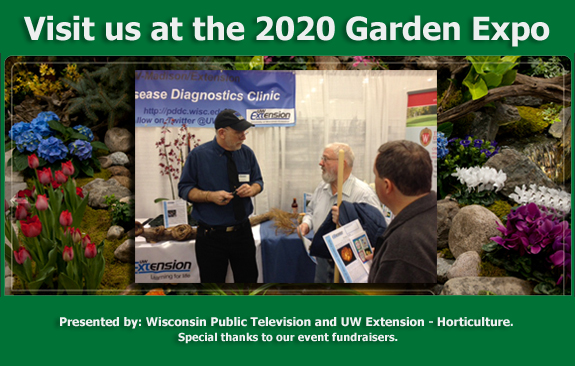 It is cold outside in Wisconsin, which means it is time to Think Spring! Make plans now to join us for the 2019 Wisconsin Public Television Garden & Landscape Expo at the Alliant Energy Center in Madison – Feb. 7-9! Explore event highlights online now, see all of the great exhibitors who will be bringing the best in garden and landscaping equipment and supplies, and explore dozens of free educational seminars with experts from across the state and country, and buy discounted advance tickets online now: wigardenexpo.com/ #WIGardenExpo
Be sure to visit the PDDC booth (booths 833-834) to learn more about plant diseases or if you'd like to talk with Brian Hudelson.  Also feel free to sit in on any of Brian's talks/panels to learn more about plant diseases and their management.
Brian's Talks/Panels
| | | | |
| --- | --- | --- | --- |
| Day | Time | Title | Room |
| Friday | 12:15 PM – 1:15 PM | Confessions of a Black Thumb: Plants That I Have Killed (Or At Least Seriously Maimed) | Mendota 8 |
| Saturday | 9:30 AM – 10:30 AM | Garden Talk with WPR's Larry Meiller | Mendota 4 |
| Saturday | 2:30 PM – 3:30 PM | Plant Diseases in History | Monona/Wingra |
| Sunday | 2:15 PM – 3:15 PM | Diseases of Orchids | Mendota 4 |